The Minister's Daughter's First Fishing Trip

Around 8:00 p.m. on a peaceful Friday evening (June 26th), a handful of rowboats dotted the calm surface of Barney's Lake. Ron Wojan and his family occupied one of them -- getting away from the intensity of running his construction business. Another, just coming in through the reed patch near shore, held the Skinners, including Meggan, their alert and happy baby girl.
The Skinners practice "throw 'em back" fishing, and were proud to have caught and released a northern pike that many others would have taken home as a trophy: 31". Meggan's father is the nephew of former Island resident Phil Skinner, who built the home in which Gus Schmidt and his wife now live. He said Phil was in Manton, where he acts as the caretaker of a campground. Their daughter, who went to BIHS, was out in California but not doing very well.
Meggan's father said the family had stopped by for some Island fishing on their way from Indiana to Escanaba, where he intends to found a Wesleyan Church. He had always wanted to be a minister, and was now ordained. His other possible career was a professional baseball player, but after much soul searching, he let the letters of invitation to try-out camps go unanswered.
"We love Beaver Island," he said. "But it's too bad about Lake Geneserath's mercury contamination." This was news to me. "Oh, yes, it's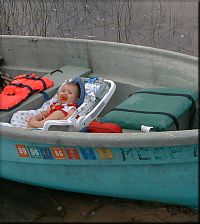 the third worst lake around. It's so bad you can't eat the fish anymore." I asked him what had caused this. "They don't know. Mercury usually comes from sloppy handling at paper mills. There used to be a sawmill down there." I told him that it had been on the shore of Lake Michigan. "Still, with Cable's Creek, maybe some of the waste got into the lake."
So, CMU biologists: any comments?


Kevin White Responds:
"The DNR study clearly demonstrates that the waters of Lake Geneserath have no serious pollution problem of any kind. Douglas Morse's DNR tests of 1990 and 1991 established that the mercury levels in Largemouth Bass and Northern Pike were only a fraction of the level at which there would be concern -- a half, and a third, respectively. Just the fact that a test was conducted seems to have started this unfounded rumor -- without realizing that the government monitors these levels in all lakes."