Our Third-string Ferry Becalmed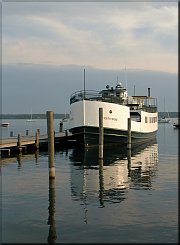 The South Shore, once the bane of the Beaver Island Boat Company's two-ship fleet, the only ferry visitors hoped and even prayed to miss, now sits at Clyde Fogg's dock, waiting, either for a chance to prove its seaworthiness again or to trick unitiated new visitors into coming on board for an unamusing amusement-park-style ride.
One of the memorable trips that forced some potential passengers to overcome their fear of flying occurred in November, fourteen years ago. After three days of cancelled trips, with the Beaver Islander laid up for repairs, the Captain decided to brave the rough late-autumn weather and head for Charlevoix. The huge seas made it slow going; it took four and a half hours to reach the mouth of the channel into Round Lake. But once there, the waves proved too fierce for them to enter, so their only choice was to turn around and fight their way back to St. James. The topsy-turvy, gut-wrenching trip took over nine hours, and accomplished nothing. Yet in this tranquil pose she seems to deny all knowledge and memory of that infamous day.