The Floating Ballroom

On Saturday afternoon, July 18th, two houseboats and a cruiser tied up together in the middle of the Harbor in order to hold a free, open-water concert. They had several instruments on board, including a piano, played primarily by Island favorite Edward Palmer, a musician with seemingly a thousand old-time Beaver Island songs in his repertoire. Anyone with a boat joined the audience that circled them as they cruised around at 2 to 2½ m.p.h.
The afternoon went so well that once they'd finished their dinner, they went out again. Several Island musicians joined in, including some who were up from Grand Rapids. Once again, a bevy of boats and jet skis circled the nautical array as it drifted towards the mist around the green buoy for a better view of the sunset over St. James. At one point one of the speed boats disengaged itself and raced for shore.
"A beer run?" a landlubber gazing wistfully out from the Coast Guard dock was heard to query.
"Taxi service," his knowing wife explained. "Don't you think they're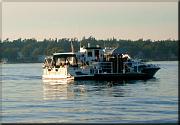 prepared?" And sure enough, a moment later the boat sped back to the concert with its back seat packed with fresh revelers.
It turned out some more old friends had just driven in from the airport, and called out to the party using the radio at Gillespie's dock.