A New Unraveller of Beaver Island's
Genealogical Labyrinth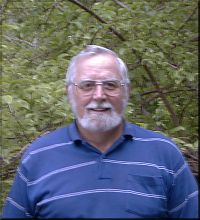 Retired Air force Engineer and current consultant Jim Sunkes, from the Dayton area, has been vacationing here for twenty years. Some time ago, he bought an early version of Family Tree software for his computer and began tracing his and wife's family tree. He found the program so user-friendly that he decided to apply it to the complications of the histories of the early and current residents of Beaver Island, which he has been doing for six years.
At present, he has placed over 14,500 names in his database, now on the latest Family Tree release. He has absorbed information from Bea Boyle, Helen Collar, and Rich Gillespie. He arrived here last week with his laptop and wife, and offered to share his information with anyone who was interested. The last of the Piper Gallaghers, Mary Teahan, sought him out, and now they are in correspondence. Gerald Left's granddaughter, who works for the Benton Harbor printer who just turned out Volume IV of the Journal of Beaver Island History, remarked on her connection, and he faxed her six pages of records from his file. "The biggest problem is that I didn't know the people," he remarked. "So I can never be sure if two distinct mentions of a Dan Boyle, for example, are two different people or not."
If anyone would like some genealogical information, he'd be glad to help. Contact him at 5753 Oak Valley Road in Kettering Ohio, 45440-2325, or e-mail. There is no charge. If anyone is willing to share their information to help him improve his files, he would be delighted to hear from them as well.
Rich Gillespie has also been collecting genealogical information on Beaver Island for many years now, and has brought it to our attention that he would be willing to help anyone in their search if he can. Rich can be emailed at gillespie@beaverislandrealty.com or can be reached on the Internet through the Beaver Island Realty website.
Genealogy at the Print Shop
Genealogist Jim Sunkes has transferred his data base to the new computer in the Print Shop Museum. It uses "Family Tree Maker" software, and is accessible, through the Director, to anyone interested in the Island's past.
These records have been painstakingly assembled, with much help from Rich Gillespie, who has long researched Island families, and Bea Boyle. Much of the information from our archives has also been included, as well as input from the many, many people who have written to Jim or e-mailed him after seeing his name (and picture) on our website.
As an example of how this works, on August 3rd, one of the heirs of John Connelly, from whom Protar acquired his property, arrived from St. Louis and wondered what information we had about her ancestors. We didn't have an awfully lot, but we did list the man in question's father, and showed how that family had married into the Gillespies.
Sometimes additions and corrections are made to our file. Two members of the LaBlanc family recently stopped by, and were able to fill in some blanks by listing eight relatives, giving us their exact dates of birth from memory.
Another area in which we can be helpful is in the instantaneous copying of pictures. Yesterday relatives of Owen Gallagher came in, asking for his picture. We found it in the archives, scanned it into the computer, and printed three copies on a nearby laser printer for them. In exchange, they mentioned that they had several old pictures in their possession that they would let us copy into our computerized archives. Becoming more accessible is not only good policy; it also pays off!
We hope to make our website more interactive as well. We have gradually expanded it, and a number of people have told us they have enjoyed logging on. Next we want to add a section in which we post photographs which we can't identify, and ask anyone who sees them to contribute whatever information they can. Please let us know what you'd like to see here.