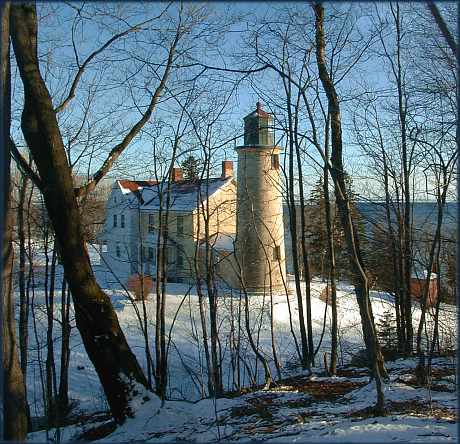 Beaver Head Lighthouse
On the 150th anniversary of Beaver Head Light, it is about to receive a thorough remodeling, as those of you who toured the splendid facility during Museum Week learned. This work, still not completely funded, will be the culmination of improvements that began in 1978 with the instigation of the CETA program.
The Lighthouse has gone through two distinct stages: in the nineteenth century it was almost in a world of its own because of the difficulty of reaching it, but in the twentieth a road linked it to St. James and it became one of the stretch points that expanded the scope of life on Beaver Island. Its keepers gave their names to such Island features as Appleby's Point and Miller's Marsh, and Islanders like Owen McCauley, Dominick Gallagher, Tom Bonner, and Bert McDonough served at the Island's far end. Over the years docks and additional buildings were added and rebuilt. The oil light was replaced with an electric arc in 1938, and in 1962 the Lighthouse was decommissioned. It fell into private hands and became a hunting club until it was acquired by the Charlevoix Public Schools in 1975.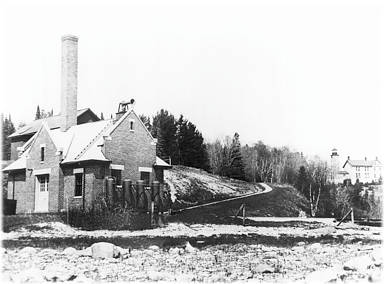 Not a bad run for a building that at the onset was built in the wrong place.
Late in 1850, the federal government set aside a piece of Beaver Island on which to build a lighthouse to meet the needs of the growing lake transportation. The problem was, finding this land. The contractor who had agreed to build the light tower for forty-five hundred dollars asked for help locating the spot, and received it, but was directed to a location two miles east of the allotted land. He did a fair job, although his structure had to be rebuilt in 1868.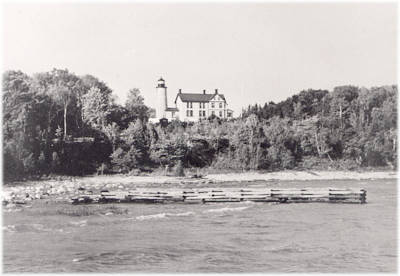 Soon the government received a bill for $150 for the land the lighthouse had been built on, from Lorenzo Birchard, whose brother had helped the contractor determine where to build. Now, the interesting thing about this bill was that Lorenzo did not own the land; even though the lighthouse had missed its intended target, it had wound up on another piece of government land. Lorenzo tried to mask this by creating a paper trail in which he and his brother sold this land back and forth to each other, thus escalating the price to well beyond what was appropriate for the market and also making it seem, to those who only looked at the most recent deed, that he had in fact bought this land legally from his brother.
But getting money from the government was no easy matter. Lorenzo, who was involved in other speculations, pressed his claim by writing letter after letter demanding his due. Still, the matter dragged on, year after year, with the operation of the light unaffected by this squabble. Finally, in 1856, the Lighthouse Inspector sought to settle the matter by requesting Lorenzo to prove his claim to the title. Not one to give up, Lorenzo actually bought the land he had been claiming, paying seventy-five dollars for a large tract of which the Lighthouse land was only a small part. Apparently no agent of the government had thought to check to see who really held the title, for if they had, they never would have sold it to Lorenzo Birchard to give him the means to pull off his scheme.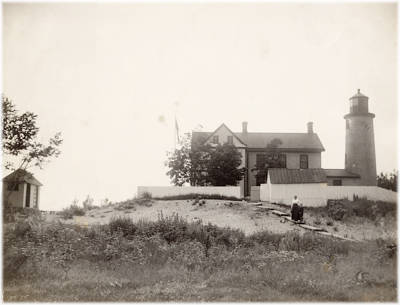 A word about Tip Miller, who was appointed keeper in 1863. His father was a Mormon who had him baptized in Nauvoo through a hole cut in river ice. When Joseph Smith died, the elder Miller took his family west, but lost faith in Brigham Young. Hearing of another claimant in Texas, the family set out to meet him, but their oxen died, leaving them marooned in Indian Territory. They eventually reached Texas but were unimpressed with Lyman White and set out for Beaver Island. Strang seemed like the real thing so they stayed. Luckily they were off the Island when Strang was killed and his followers removed.
While keeping the light, Miller and his wife from Donegal and their ten children found it hard to make ends meet. He made barrels, fished, and served as a mail carrier in the winter, hauling sacks of mail on his back 55 miles over the ice to Mackinaw twice a week.
A friend to the Indians, Miller was given the name Ki cha na ma gos, which meant "Big Trout."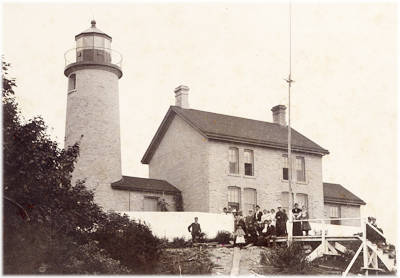 In 1876 he moved to Whiskey Point to take charge of Michigan's first life-saving station. He was officially credited with saving several hundred lives during his tenure, but downplayed his role. But he admitted saving men when the Chandler J Wells went down on Whiskey Island Reef, as well as Captain Henry Bundy and his family when their gospel ship Good Tidings sank and nineteen men when the J J Case reefed at Hog Island.
His great great grandson, Robert Gibson, has come full cycle, working as an intern at Beaver Head Light in 2000.
See Also:
1940 Harbor Light
Harbor Light Historic Property Lease
Harbor Light 1998 Photo
Thanks to the Beaver Island Historical Society for this article.